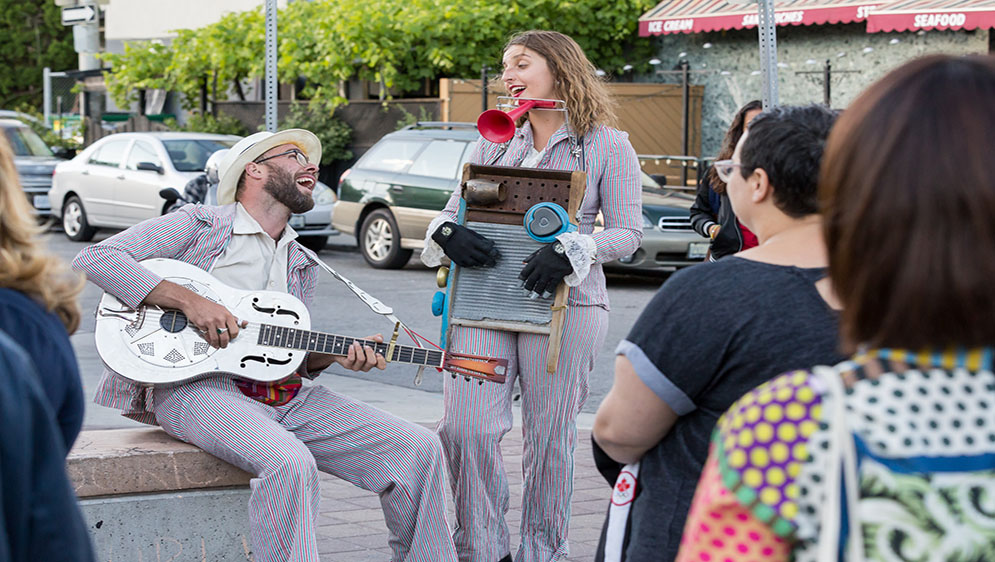 18 / 08 / 17
Get to Know Ann Ball: Hurly Burly's Researcher and Administrator
What is your favourite part of Bloor and Dufferin?
I love the diversity and small town feel of the neighbourhoods. Just by turning a corner, you may find yourself in the different community: each block has a personality that is defined by the people who live there. Community networks are strong, although sadly, they often do not intersect. We hope to bring people together with Hurly Burly.
How long have you lived in Bloor and Dufferin?
With one two-year break, I have lived on either Brock Avenue, Dovercourt Road or Delaware Avenue for over 40 years.
What is your favourite thing to do in Bloor and Dufferin?
I love to walk along Bloor Street West; a small town feel of bumping into a friend, or catching up on the gossip at my local grocery store, Bloorcourt Village Market. Alicia, Carlos and Alex Chan, have run the store for over twenty-five years. It's true community hub.
What is your favourite attraction and restaurant in this area?
Well, it used to be the Storefront Theatre at Delaware until they lost their space. But there are so many places to choose from, Pero's, Little Sito, Lalibela, Dooney's, La Bella Managua, or The Piston. Then there's the Rooster, Ali Baba's, Pam's Roti . . . truly amazing places to eat. I have great hopes for the new Paradise – which will be a live music and event venue in the spring of 2018.
What is one thing that many people don't know about Bloor & Dufferin?
I think people don't realize that Dionne Brand wrote an original poem for a past project we worked on, The Rosina Shopkeepers' Project. Sponsored by Bloorcourt BIA, and spearheaded by Working Women Community Centre, the poem is set in bronze letters at the bench at Bloor and Dufferin. I often see parents walking along, reading the poem to their children.
What role did you play in the Hurly Burly?
I work on research and administration, while Claire Burns, Storefront Theatre, produces the event.
How long have you participated in the Hurly Burly?
Along with Marcie Ponte of Working Women Community Centre, Claire and I have worked on the project since February 2017.
What is your favourite part about the Hurly Burly?
Learning more about the history of the neighbourhood and our community members, of course. But also, unexpectedly, I have developed a deeper appreciation of the precariousness of working in the Toronto arts scene. Our local artists work hard with increasing pressures on space, resources, and funding. We are proud of all those who participated or will participate in Hurly Burly!
We hope that you come and see them on August 26th!