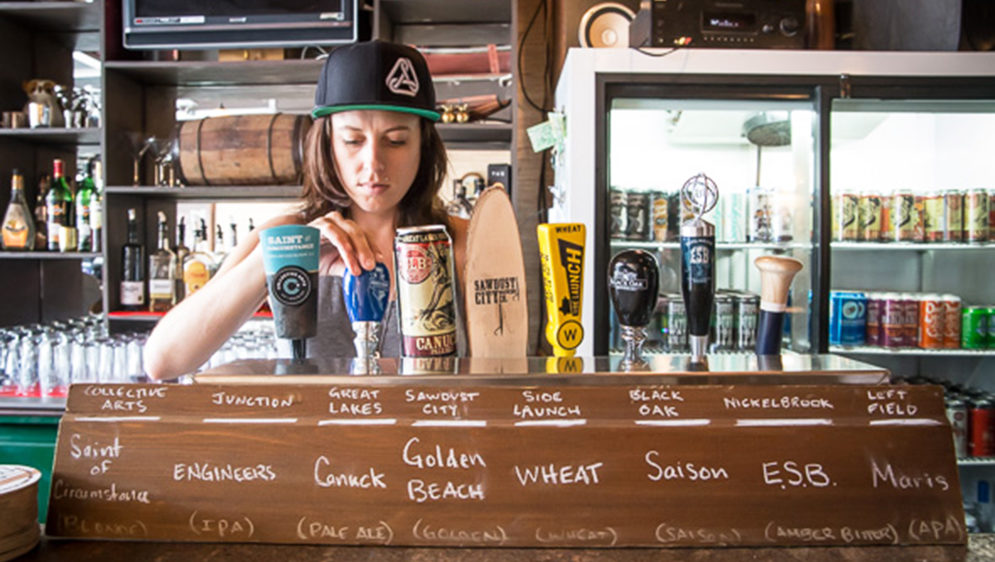 31 / 07 / 17
A Backwoods Retreat in the Heart of Bloor & Dufferin
Bloor & Dufferin is Cottage Country
The cottage-like attitude of Bloor West's Wenona Craft Beer Lodge brings a distinctly rustic vibe to Bloor & Dufferin. The bar is decorated with everything you'd expect to find in a backcountry watering hole – Group of Seven-esque paintings, vintage skis, family photos, etc. If you're looking for something casual and off the beaten path, Wenona Craft Beer Lodge is your bar.
Taking its name and inspiration from a former resort on Sparrow Lake in the Muskokas, Wenona Craft Beer Lodge is a passion project of founders Tom and Phil Cacace and Kevin Kennedy. Their aim is to recreate the feeling of a carefree trip to the cottage, and this theme doesn't stop at the decor.
Chef Danielle Frances and Sous Chef Megan Lane curate the new, cottage-inspired menu, and it's full of local eats and brews with an emphasis on the classics. Favourites include family-style platters, pub staples, unpretentious sandwiches and roast beef.
And true to its name, Wenona Craft Beer Lodge features a host of local craft beers. Offerings include 8 draught brews from Sawdust City, Left Field and Side Launch and beers from Black Oak, Bell City, Collective Arts, Great Lakes, Junction Craft, Maclean's, Nickel Brook and Left Field are available in tall cans and bottles. There's also an array of cocktails including the Muskoka Iced Tea (a beer-infused iced tea) and Caesars served with pepperettes, bacon strips and of course, a splash of beer.
In the entertainment category Wenona Craft Beer Lodge furthers its community credentials by featuring only local entertainers. The basement speak-easy is available for private parties and a series of film nights are planned for the coming months.
So next time you're looking to get out of the city and kick up your heels for a while, don't. Take a staycation at Wenona Craft Beer Lodge instead.
To learn more about Wenona Craft Beer Lodge click here.