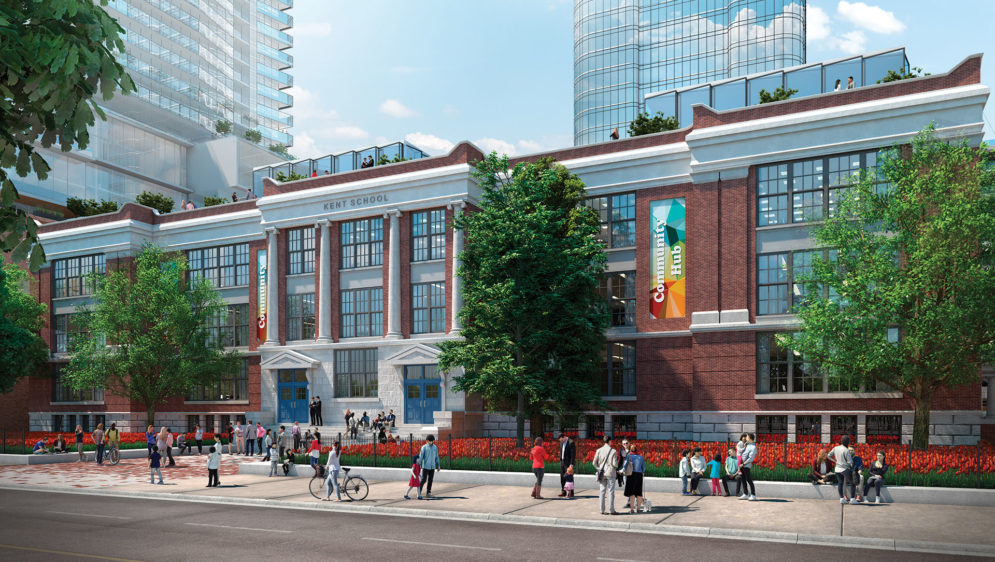 10 / 04 / 17
Celebrating Heritage
We are committed to exploring ways to commemorate and integrate the unique heritage elements of this site.
The Kent School, formerly known as the Kent Senior Public School, was founded in 1908. The school was built on land purchased from Captain John H. Denison who received it as a gift from Governor John Graves Simcoe. The school was named after Mr. H.A.E. Kent who served for 21 years as a Toronto trustee.
The Kent School was designed by Charles Bishop, the Superintendent of Buildings for the Toronto Board of Education, who designed several schools for the Toronto School Board between 1882 and 1915.
Conservation
The Kent School conservation will include preservation and restoration of key heritage elements and architectural features, such as porticoes, cornices, parapets, pediments and original windows.
Adaptive Re-Use
This unique community asset could support a variety of uses including a space for the community hub, cultural uses, offices, and residential lofts.
Accessibility
We believe that the most inclusive way to approach accessibility for this site is by creating at-grade entrances similar to the Bloor-Gladstone Library.
Integration
There is an opportunity to improve the setting of the Kent School and integrate the school into its evolving context by upgrading the landscaping and public realm surrounding it.